Welcome to Simply Cheesy Boards! Let us elevate your culinary experience with immense style and meticulous detail incorporated in each board and table we create.
Simply Cheesy Boards are your go-to for all kinds of get-togethers and special moments. These epic meat and cheese boards aren't just fancy – Every board is carefully crafted with a unique style and mouth-watering taste.
*All orders can be customized to accommodate allergies and dietary restrictions*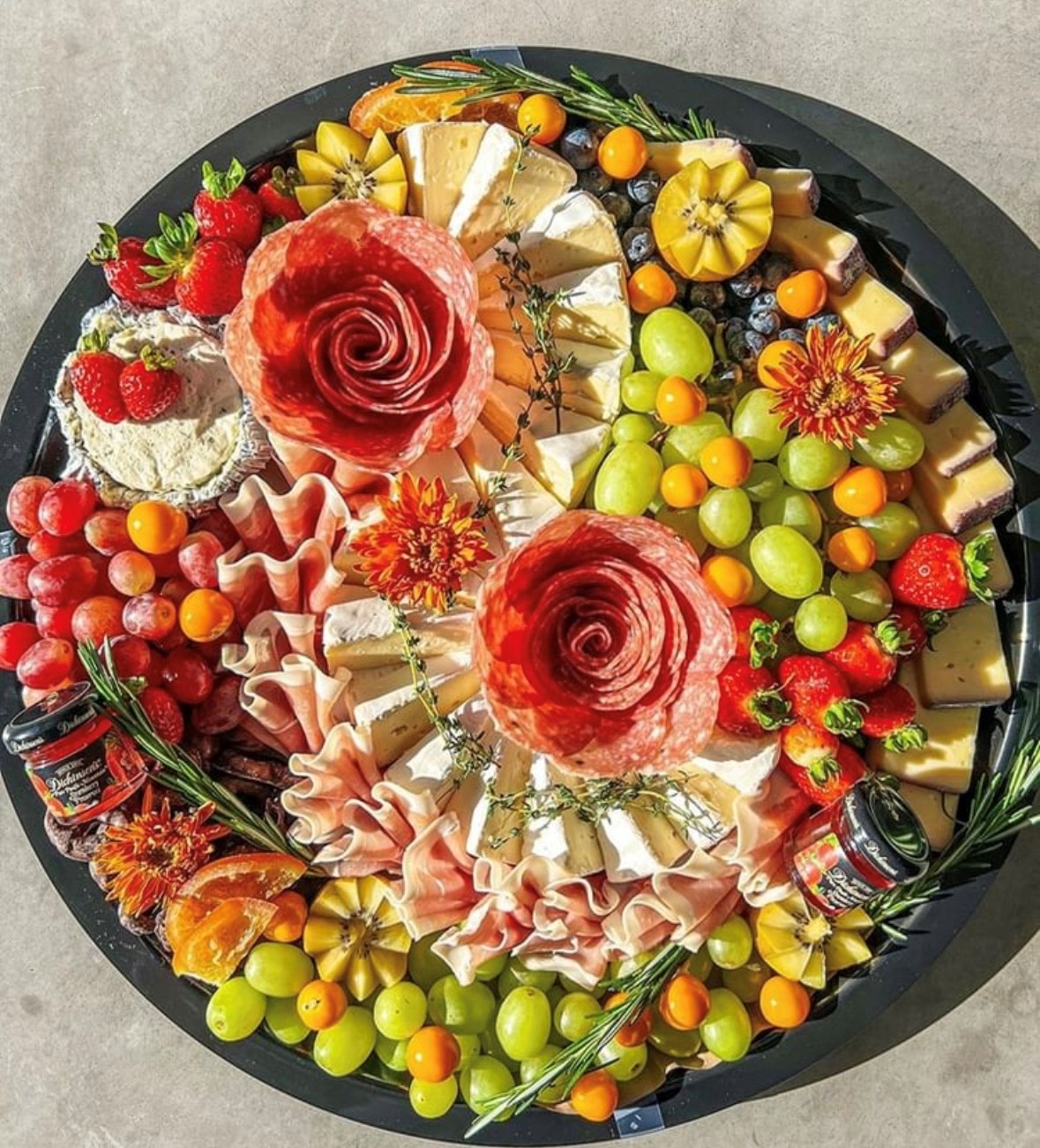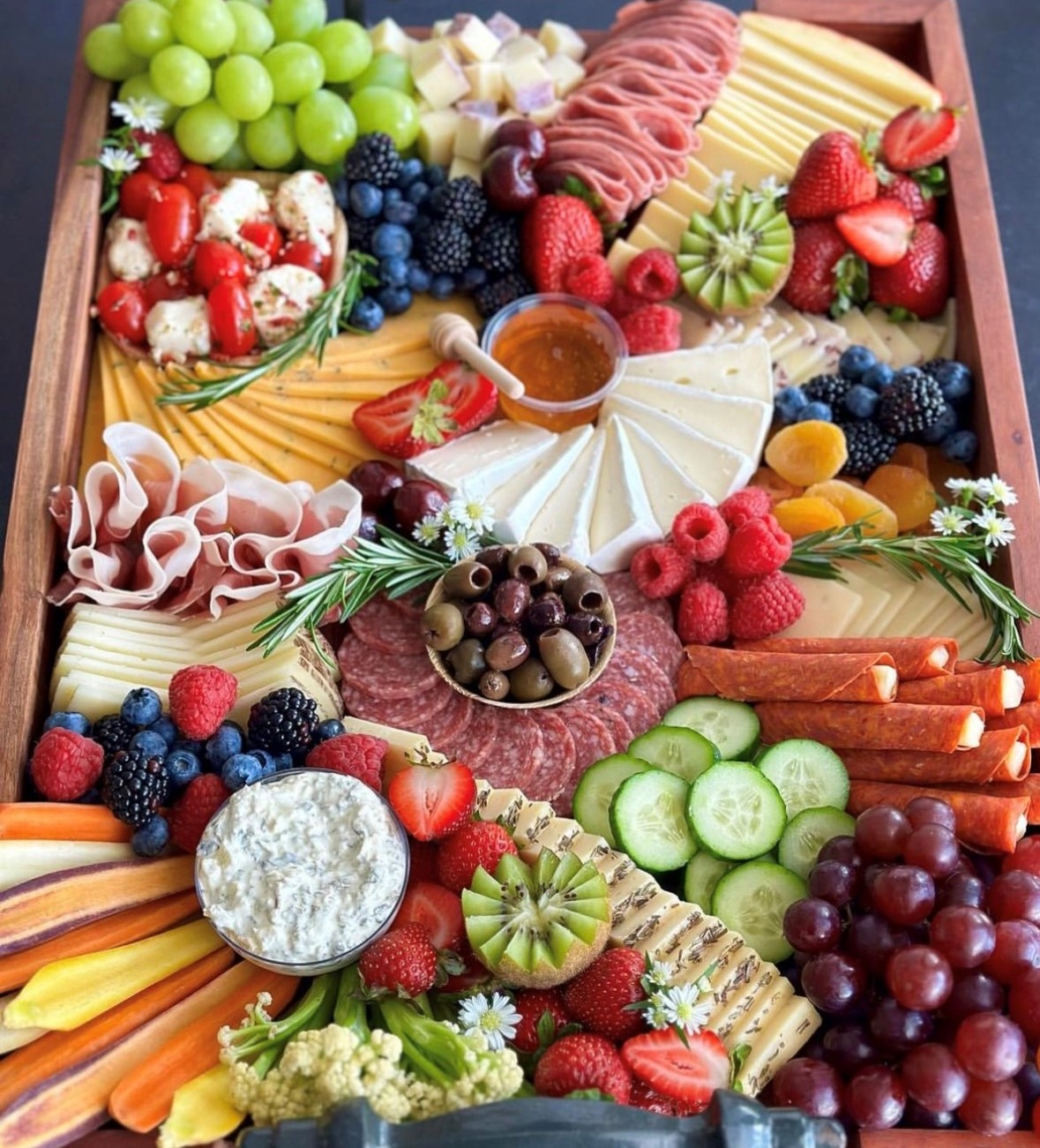 Elevate your gatherings and create unforgettable moments with Simply Cheesy Boards! Our meticulously crafted charcuterie boards are a blend of style and flavor, perfect for any occasion. We customize every order to accommodate allergies and dietary restrictions, ensuring everyone can enjoy our hand-picked meats, diverse cheese selection, fresh fruits, veggies, artisanal crackers, bread, and sweet treats. Whether you're hosting a small group of 1-9 people or a larger gathering of 25-29, our boards are priced from $150 to $350, promising a culinary journey that goes beyond ordinary catering.
Luxury Grazing Table Packages
Simply Cheesy Boards are perfect for all types of gatherings and occasions. These sophisticated meat and cheese boards make entertaining effortless as well as stunning and delicious. Whether you are looking for something as simple as a charcuterie board or an over the top grazing table for a larger gathering, Simply Cheesy Boards does it all. With immense style and meticulous detail to each board and table we make. Each board & every table is created with love, passion, and not only looks beautiful but tastes amazing.
*All orders can be customized to accommodate allergies and dietary restrictions*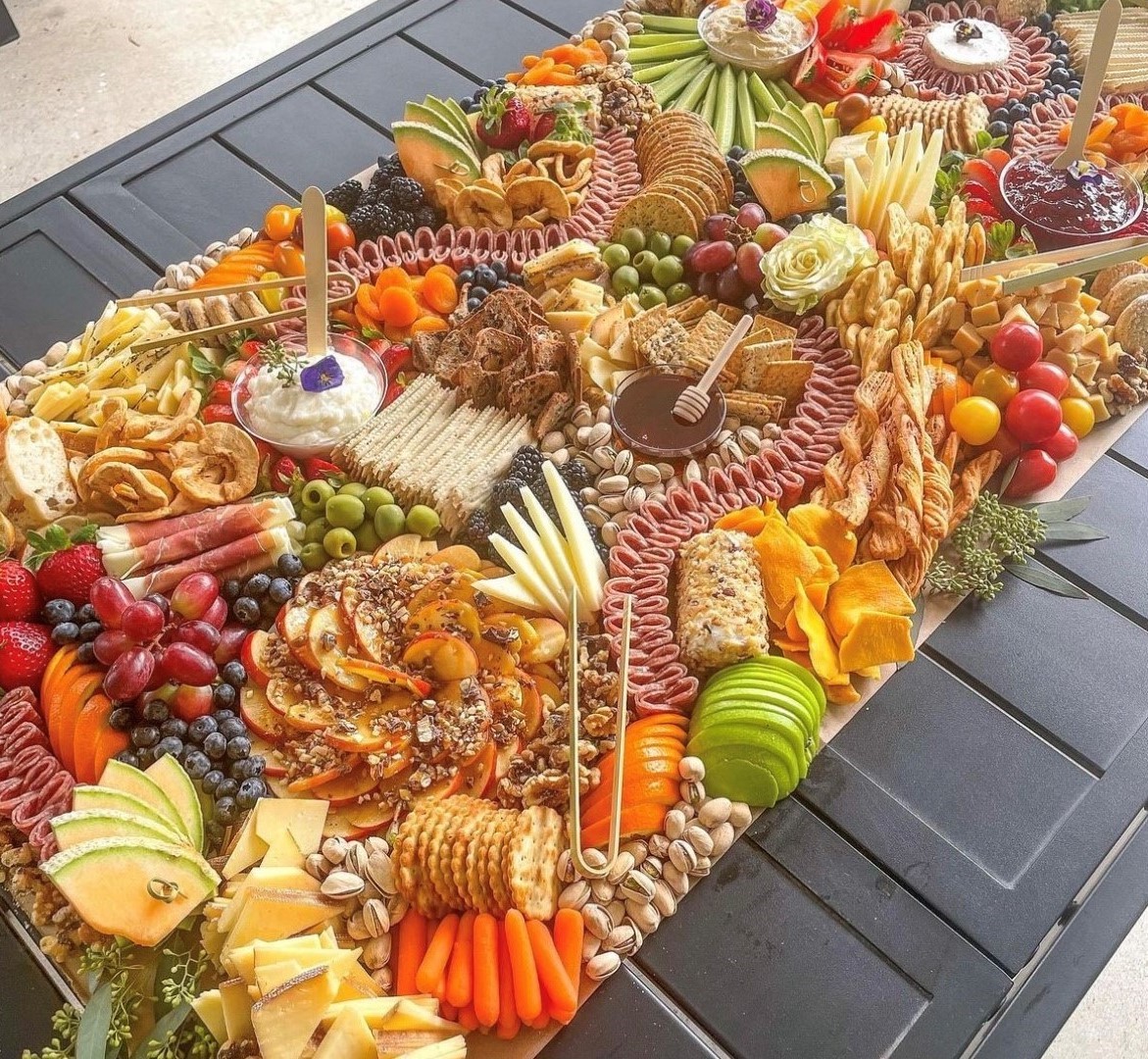 A standard grazing table is $24 per person and comes with a variety of hand picked meats, a large selection of cheeses, fruits, veggies, crackers, breads, and various sweet treats. If you have anything specific you would like to see on the board please let us know so we can do our best to accommodate your request.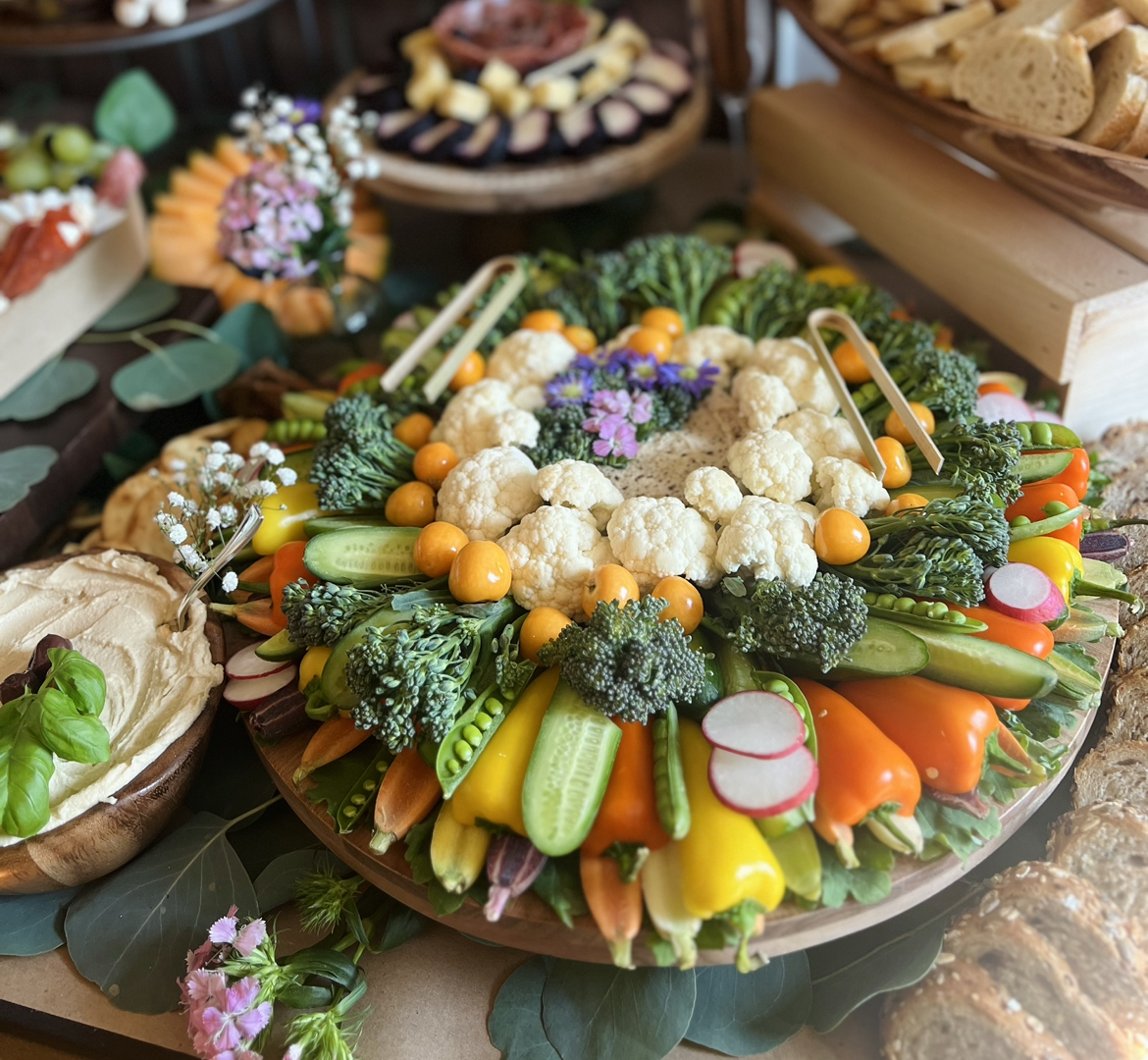 Upgrade Option – Deluxe Grazing table: An additional charge of $250 will be required for this grazing table, which features a variety of hand-picked meats, cheeses, fruits, vegetables, crackers, breads, and sweet treats in addition to our popular Caprese Salad, Spinach dip, Hummus, and various seasonal dips in bread bowls.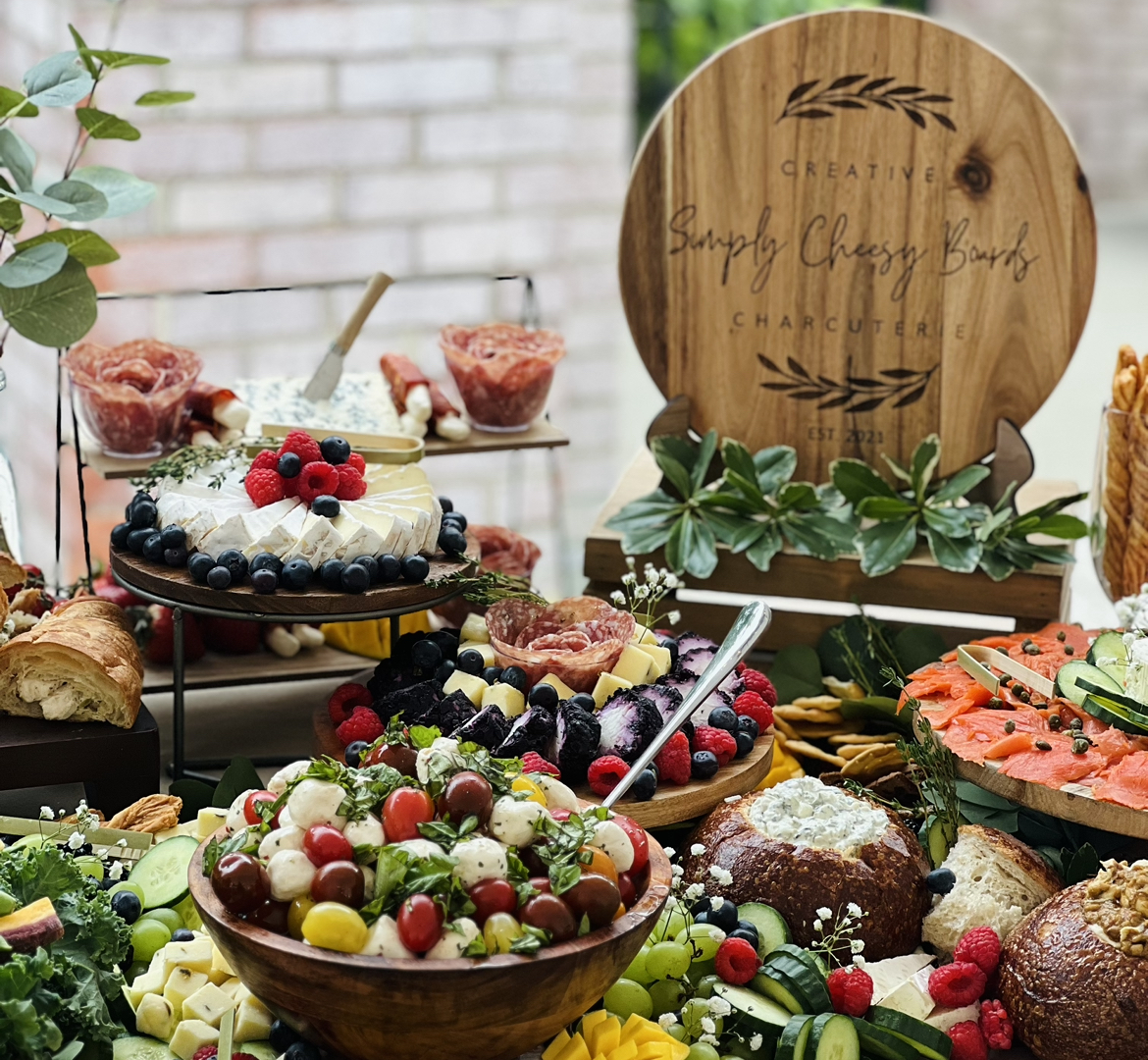 Upgrade Option – Premium Grazing table: A supplemental fee of $350 unlocks the full potential of your grazing table, encompassing all elements present in both the standard and deluxe packages. Including a tantalizing smoked salmon board, tempting shrimp cocktail, and delectable chicken salad croissants, ensuring an abundant variety for every guest to relish.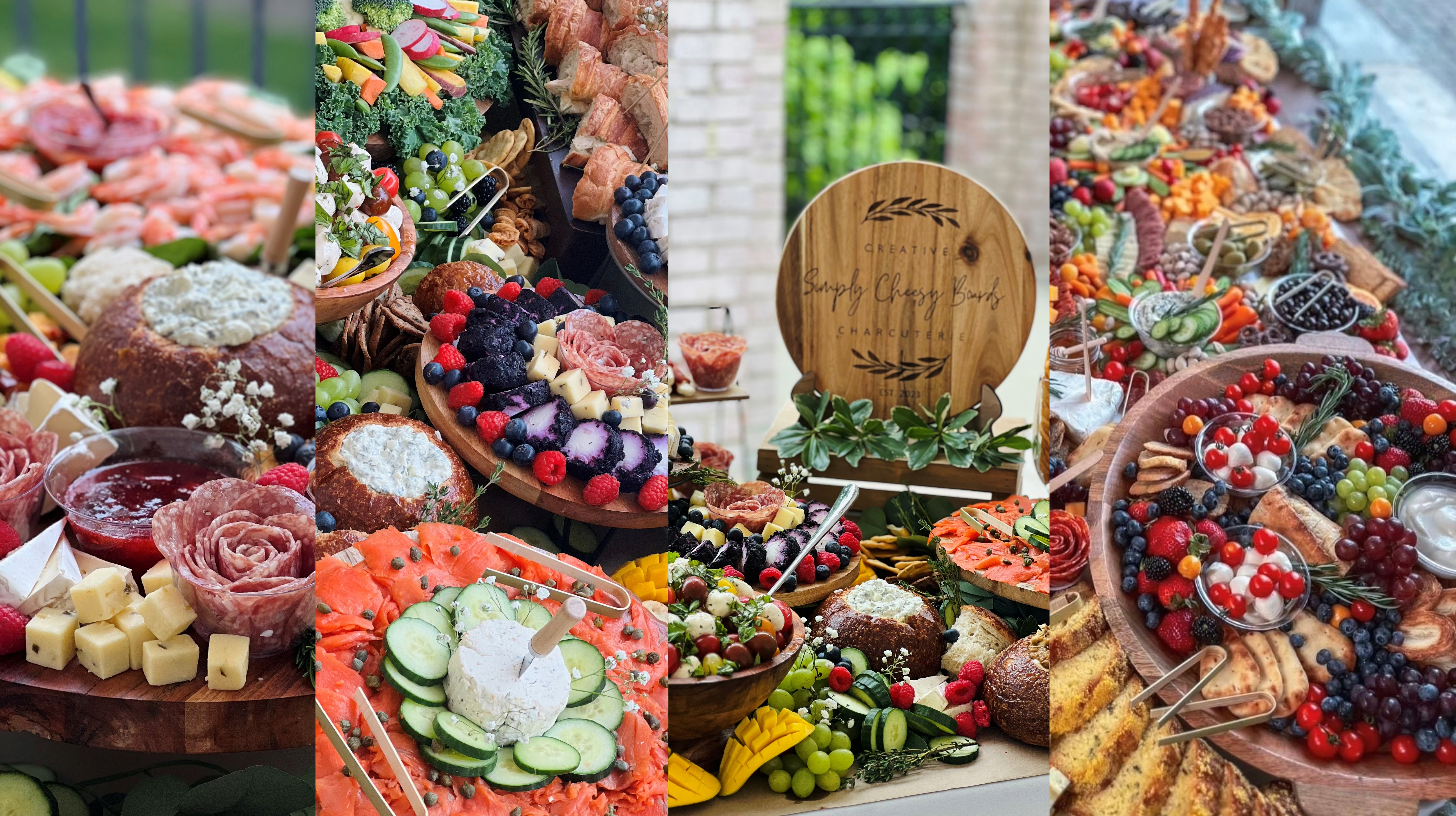 Luxury Dessert Table Packages
In addition to our delectable meat and cheese boards, we proudly present our indulgent dessert tables, featuring an extensive array of sweet delights to satisfy your cravings. Our tempting selection includes an assortment of delectable treats such as rich, fudgy brownies, scrumptious cookies, decadent cakes, delightful cupcakes, an enticing variety of candies, a medley of chocolate confections, savory-sweet pretzels, and a captivating mix of other irresistible sweet treats and goodies, ensuring an unforgettable and delicious experience.
*All orders can be customized to accommodate allergies and dietary restrictions*
Mini Add-On Dessert Table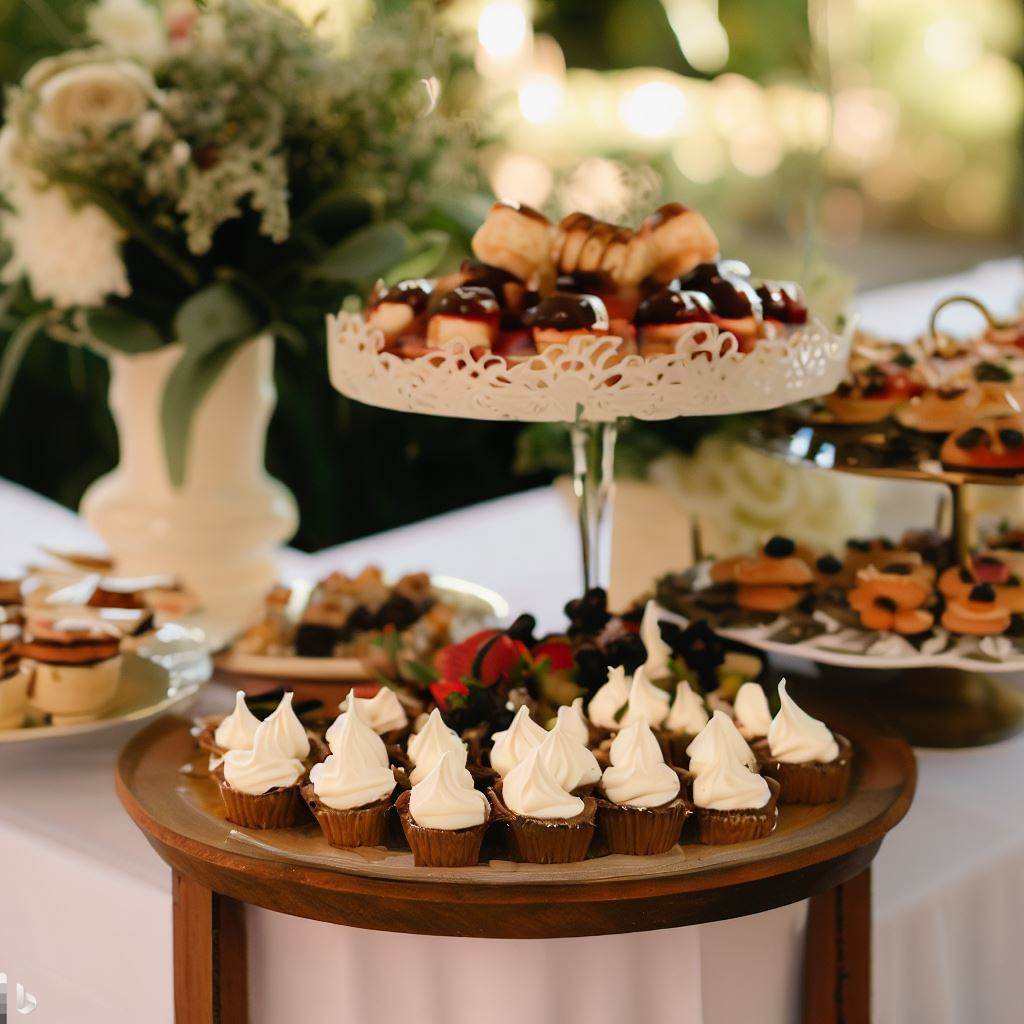 Sweet Surprises in a Small Package! Our Mini Add-On Dessert Table is perfect for those looking to add a touch of sweetness to their event. It features a carefully curated selection of delectable treats that will satisfy your cravings without overwhelming your space or budget.
Large Add-On Dessert Table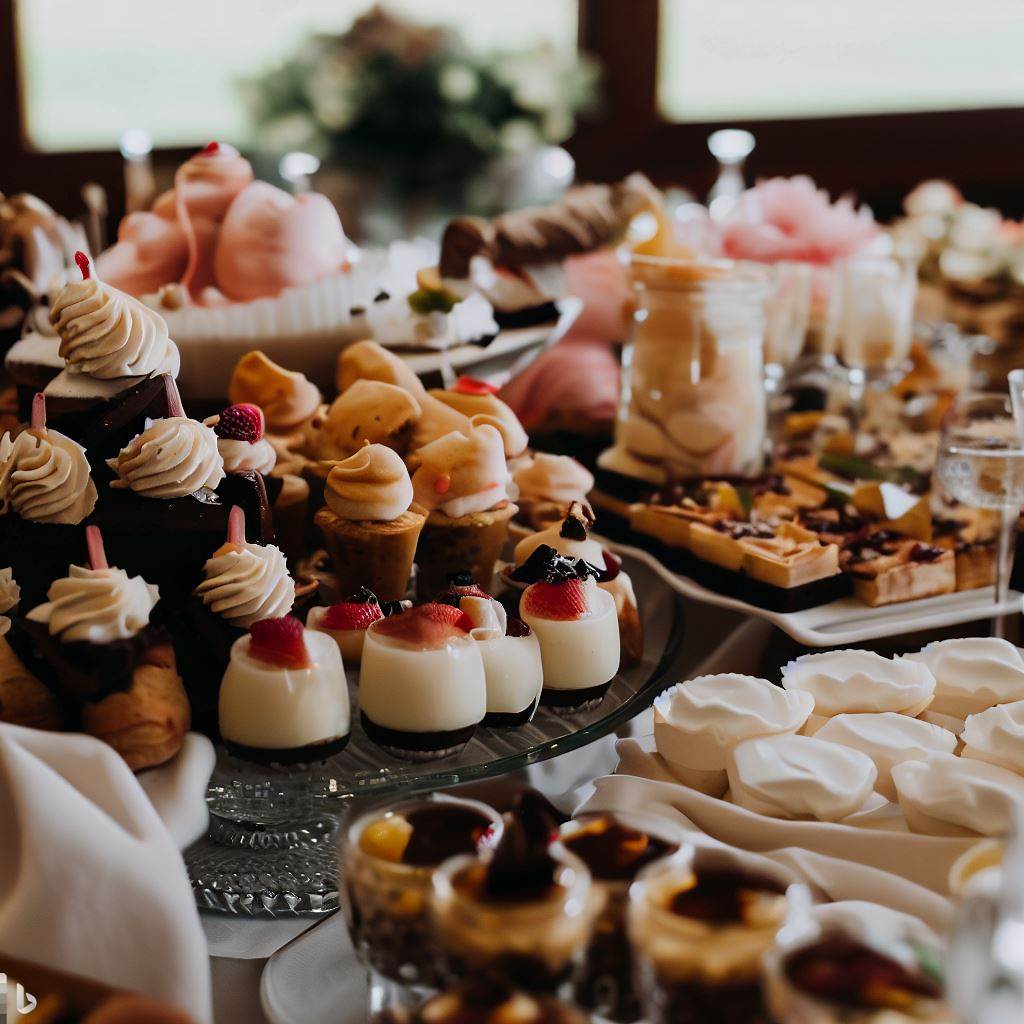 Elevate Your Event with Sweet Elegance! Our Standard Dessert Table offers a delightful array of desserts and confections to elevate your celebration. With a diverse selection of treats, it's designed to cater to a variety of tastes and create a memorable dessert experience!
Stand Alone Dessert Table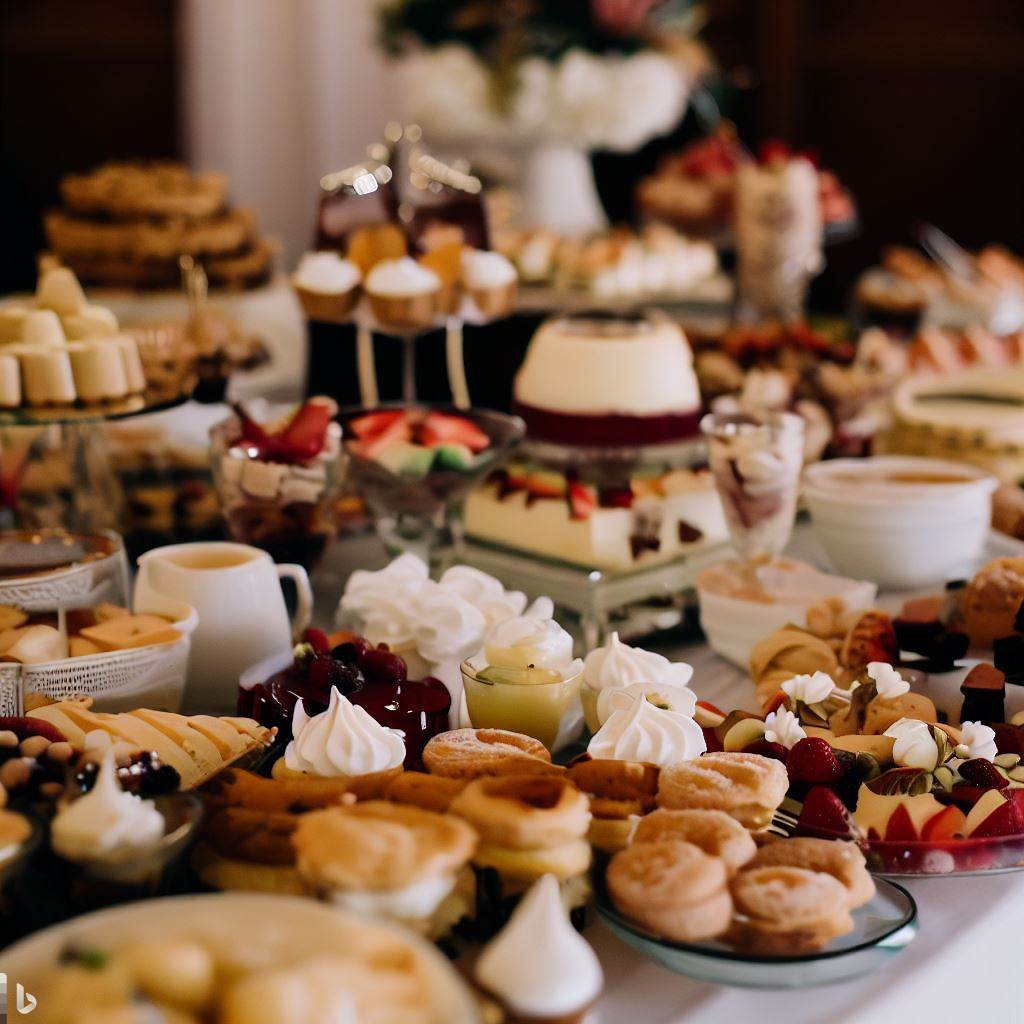 The Ultimate Indulgence! This table is stand alone dessert table a feast for the senses, featuring an opulent spread of exquisite desserts and sweets. Crafted with precision and artistry, this table is a showstopper that will leave a lasting impression on your guests, making your event truly unforgettable.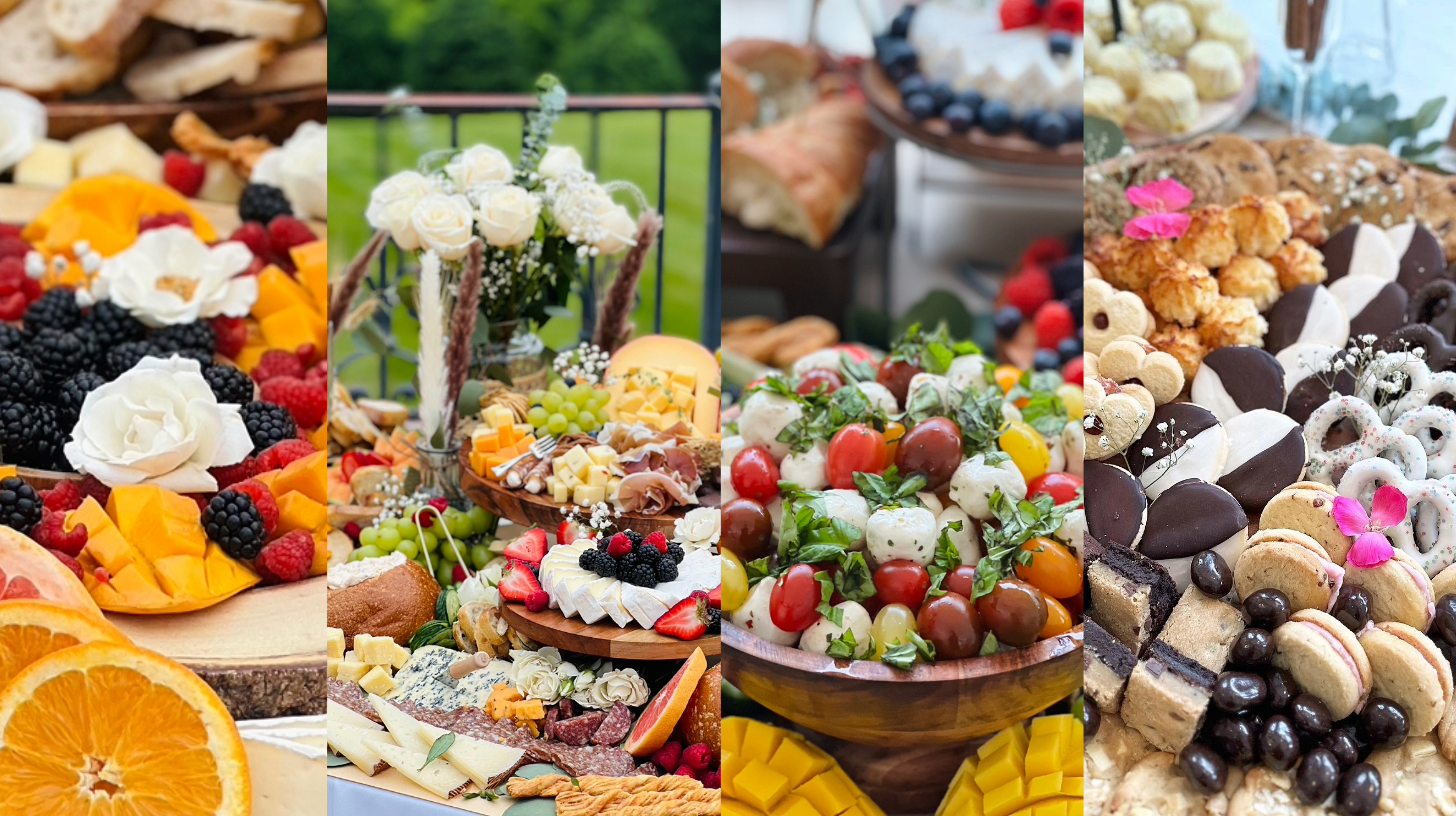 My experience with Lena's charcuterie boards has been nothing short of spectacular. These are not just food platters; they are beautifully worked to truly elevate any occasion. The best of the best, each board is a symphony of flavors and textures, decadent and exquisite in every sense. Trust me, you will not be disappointed!

Lena and her team went above and beyond my expectations. The food and display was a work of art. All the guests were blown away and couldn't stop raving about how delicious it all was. Lena is truly amazing and so easy to work with. Highly recommended for anyone looking to cater their next event.

First and foremost, presentation is everything, and Simply Cheesy Boards truly excels in this department. Their boards are a masterpiece, showcasing an impressive array of carefully selected meats, cheeses, fruits, and accompaniments that are as visually stunning as they are delicious. I strongly recommend them for your next event.

Lena and her team at Simply Cheesy Boards (SCB) consistently exceed my expectations when it comes to catering high-level events. Not only are their charcuterie boards stunning showpieces, but they're also incredibly delicious. For every event I've used SCB guests reach out to me afterwards requesting their contact info. The team's professionalism and readiness on-site are unmatched, and they always go above and beyond to make the event exceptional. For top-tier catering, Simply Cheesy Boards is my first choice!

I have used Simply Cheesy Boards multiple times for events I've hosted, and I am continuously impressed with their attention to detail, aesthetically pleasing designs, and most importantly, the freshness and deliciousness of the food. Anytime I am planning an event I immediately call Simply Cheesy Boards as I know they will deliver the best products and raise the bar for the experience of my guests. 

Wow, let me start by saying that Simply Cheesy Boards absolutely blows me away with their presentation! I mean, talk about setting the stage for an unforgettable culinary experience! These boards are nothing short of a work of art. Imagine a breathtaking masterpiece that combines a tantalizing selection of the finest meats, cheeses, fruits, and accompaniments you can dream of. 
When you are ready to move forward please indicate with your response which table option you would like to go with.
One of our team members will reach out to you and confirm your order and details.
We require full payment 7 days prior to your event date. If you cancel 3 days or greater you will receive a full refund. Cancellations within 3 days receive 50% return.
Our delivery service covers a 45-mile radius for a nominal fee, or you can opt for pickup with full confidence.
Crafted with passion and an unwavering commitment to quality ensuring an unforgettable experience.​
What typically comes with a charcuterie board?
All boards regardless of guest count comes with a variety of hand picked meats, a large selection of cheeses, fruits, veggies, crackers, breads, and various sweet treats.
How much notice is needed to place an order?
Do you offer dietary alternatives/vegan options?
Yes! We offer vegan, vegetarian, halal, gluten-free, nut-free, etc. Please specify when placing an order and we will accommodate any necessities!
Any other fees we should know about?
These are the additional fees for Grazing tables:
Setup/Pickup: $250.00
Delivery: $130.00
Labor:
– $300.00 (30-99 people)
– $400.00 (100-199 people)
– $600.00 (200-299 people)
– $800.00 (300-400 people)
How far do you travel for delivery?
Our delivery fees: We will deliver up to 45 miles from store.
Grazing tables are set price of $130
For charcuterie boards:
$45.00 delivery fee 0-18 Miles
$55.00 delivery fee 18-30 miles
$65.00 delivery fee 30-45 Miles
How long does it take to setup
It takes two hours to set up.
Payments accepted
Payments we accept: Apple Pay, Visa, Mastercard, Discover, and American Express. 
How does pickup work?
You will need to coordinate a date/time for pickup with our team. Our location is in Centreville, VA.
How long does my order stay fresh?
2-3 days shelf life. Keep it refrigerated. 
What types of cheeses/meats do you usually include on the board?
All varieties of meats and cheeses which we hand-pick ourselves to make sure the quality is fresh and up to par with our standards!

At Simply Cheesy Boards, we transform ordinary gatherings into extraordinary affairs with our exquisite creative grazing tables and charcuterie boards. Crafted with passion and an unwavering commitment to quality, our offerings redefine luxury catering in Virginia, Washington D.C, and Maryland.